I can't believe I'm about to admit this, but I was watching Rachel Ray's 30 Minute Meals the other day, and she mentioned that she would be cooking up a chilidog burger for a tasty gameday treat. "Huh," I thought to myself, "that sounds an awful lot like a hotbogder."
Lo and behold, the kitchen goddess whipped up an amazingly yummy looking hotbogder, with cheese and bacon on top to boot! Now you know I couldn't resist, so I had to whip up one of my own. Last Saturday I was inaugurated into the burger making hall of fame for the tasty treat I concocted.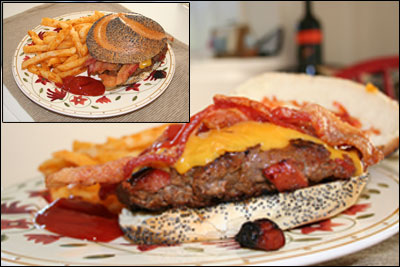 Notice all the hotdog bits peeking out the side of the burger meat? My hotbogder was filled with the delicious morsels. Next time anyone comes to visit me (from another state), they'll get hooked up accordingly. Even you Beau, you scoundrel.