So the Sidewinders are going to the championship, and Chip was named Pacific Coast League manager of the year. Congratulations are in order! In honor of this, I have decided to run an interview that I did with Chip three years ago when he was named the Sidewinders manager. This interview was to run in the critically acclaimed, yet never published, On Tap Tucson magazine. Enjoy!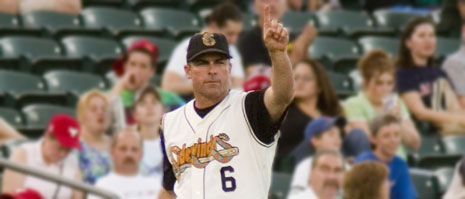 How did you become a baseball fan?
I think that it all started with my mother. I grew up in Northern California in the San Fran Bay area. My mother would have the Giants game on every day. I loved playing anything outdoors, football, baseball. It continued because of my stature, because I wasn't tall enough to play football, which was my favorite.
Who do you talk sports with?
Anybody that will listen. Mainly my son Jack — he and I talk sports all the time.
Describe yourself in under five words.
Energetic, active, impulsive, and a little bit anal.
What is your greatest achievement?
In college, being able to graduate in four years and play baseball for four years as a Wildcat. I was able to start in every game, I'm the only player at the UofA who has been able to do that.
Now that you're in Tucson again, you're able to attend UofA baseball games. Is it good to be around the program again?
Yes, it's very good. I've always enjoyed it. It's great to be in this city, and the whole UofA, whatever sport it is.
You and your team in college showed a lot of comraderie back in the day. What is your favorite memory with the guys?
The best memories for us were going on the road and playing. In 1986 we traveled to Omaha and were there for 17 straight days. There's not a lot to do in Omaha when you're not playing, so we had to find other ways to entertain ourselves.
Which bar around campus were you most often seen at?
In my day, the Wildcat House was the place to go. Probably second most was Dirtbag's.
How many players from your National Championship Team went to the Major Leagues?
Four, counting myself. Tommy Henzo played for the Indians, Gil Haradea played with the Oakland A's and the Giants, and Dave Roadie played with the Houston Astros.
What's the best part about playing college sports?
The competiton. Being at Arizona we got to play a great schedule, and play against a lot of great and talented players. We also got to go to a lot of neat places, like Taiwan.
You sent Rodney McCray through a plywood fence chasing a home run you hit out in right field once while you were playing for the Portland Beavers. What were some of the comments in the locker room after that game?
Well, we were shocked that he was still alive to be honest. When he hit the wall the wall snapped in half and there was a metal bar there. Luckily, he just went under it. Once we found out that he was okay, the comment I got the most was why didn't I get a home run? The guys gave me a hard time for not making it all the way around the bases.
What is the best part about playing in the Major Leagues?
The competition and the comraderie. A lot of players have a hard time leaving baseball because they love the high of competing every night, and also just hanging out with their teammates in the locker room. The locker room is a place where there is no racism, it's just 25 players and 8 coaches. You can say anything you want — everyone is equal and it's the perfect community.
What were your favorite ball parks to play at?
Yankee Stadium and Fenway Park. When you walk into Yankee Stadium you think about Babe Ruth and Mickey Mantle and all the great players. At Fenway you have Ted Williams and the Big Green Monster. There's so much history.
You share a birthday with Britney Spears. You also both worked for Disney at one point in your careers. Any other similarities?
[laughs] No. None whatsoever.